Le Flambeau Foundation launched THE SPARK of Le Flambeau Spring session on February 18th, 2023; entering the fifteenth year of the program.  The THE SPARK of LF is an online English discussion program focused on extending educational opportunities to bright youth (up to 27 yrs old) in and from Haiti.  The program provides a path for students to engage and earn their way forward – a number of past participants earned scholarships to college or shorter-term upskilling programs (eg. tech. etc.).
This Spring 2023 THE SPARK of Le Flambeau session will run for six weeks from February 18th to until April 1, 2023.   Our volunteer Ms. Alexis is back by popular demand and will be leading the session as English Grader for the fourth time.
Meet Our Class English Grader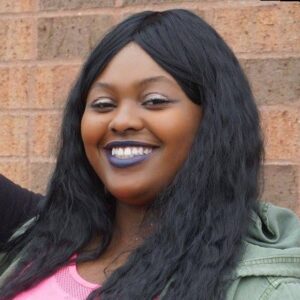 English Grader Alexis Floyd has been recognized by Le Flambeau Foundation as an exceptional volunteer, for both her selfless commitment to helping the youth in Haiti and her commitment to excellence in identifying and implementing innovative practices for engaged learning.  Alexis is a 2021 graduate from American University. She majored in International Studies with a focus on Sub-saharan Africa. She is a native English speaker and a proud African-American. Her interests include international music, languages, cooking, traveling and making friends from all over the world. She is excited about working with THE SPARK of Le Flambeau program as she strongly believes that cross-cultural educational and language exchange are key contributors to developing a thriving social ecosystem. She embraces her on-going learning about Haiti and the Haitian people.
Changing the Situation.
Le Flambeau Foundation is pleased to be launching this new class.  Learning the English language can serve as a tremendous asset and driver for elevation.  This semester's class will attract participating youth located throughout Haiti with most coming from the North of the country, specifically Cap-Haitian. The top five participants who complete the session will receive a 2-year English learning Babbel app, resulting from our partnership with Babbel.  The grand winner  "THE SPARK" of Le Flambeau will receive a Samsung tablet along with a certificate and  elevated access to  educational and upskilling opportunities.   Le Flambeau Foundation President, Mr. Jean St.Lot-Gervais. stated "Aprann Anglè. Chanje Sitiyasyon."…Learn English.  Change the Situation.  An exciting and rewarding session is ahead.  The future is bright!
Le Flambeau Foundation , Inc.
### How to Get Involved
There are a number of ways to get involved with the Le Flambeau Foundation . As a supporter, you can donate to the foundation, volunteer your time, or become a mentor to a young person in Haiti.  Feel free to contact us at info@leflambeau-foundation.org.