Le Flambeau Foundation , August 3, 2023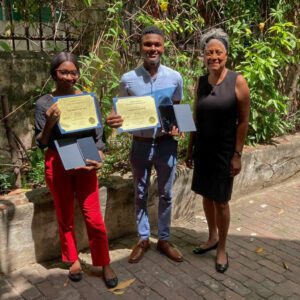 Le Flambeau Foundation (LFF) hosted an awards ceremony event in Cap-Haïtien on July 1st, to personally award winners of the recent THE SPARK of Le Flambeau session.  The  program, now in its 15th year, is an on-line preparatory program designed to help young people in Haiti develop their critical thinking skills, English language fluency, and leadership abilities.
The ceremony began with an acknowledgement of Dr. Luc L. Colas' vision 20+ years ago as he hosted youth in his yard to discuss important topics in English and in French/Kreyol to help young people develop a deeper understanding of important topics and become more fluent in expressing their perspectives, for change.   With this spirit in mind we launched presentations to the three honorable mentions  • Naïka Charles • Gasmide (Sharliah) Saint Juste • Mydleyka Dimanche – who each received an award certificate, a LuminAID solar study light, and a Babbel 2-year English learning code.
The grand co-winners were then presented – Paul Marlie Saint-Jean  &  Makenley Francois were honored and each received an award certificate along with a Samsung tablet and protector case, and a Babbel 2-year English learning code..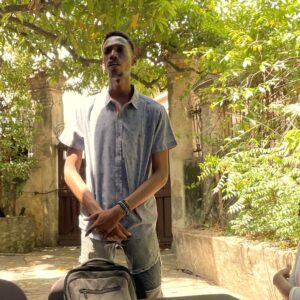 The ceremony also featured a presentation made by a past winner of the THE SPARK of Le Flambeau who received an LFF scholarship,  Dervain Valbrune.   Valbrune recently earned a completion certificate for his impressive participation in the CodePath "Intro to Mobile Product Development Workshop Series".  He shared his experiences in the program with the group, talked about the tech project he developed, and shared his goal of becoming a project manager. He also expressed his commitment to helping young people in tech by providing mentorship and inspiration.  We were pleased to have him join the group.  To learn more about Valbrune's scholarship and project (click here).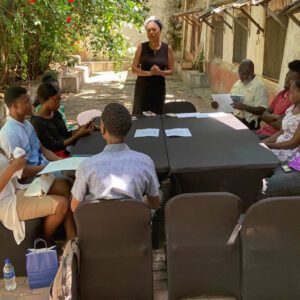 The awards program concluded with an open group discussion during which participants shared thoughts on how to help other youth. The group completed the discussion by sharing perspectives on their favorite topics from the recent THE SPARK of LF class. The top three favorite topics were Mental Health, Technology, and National Pride (learn more).  A special "than you" was extended to Ms. Alexis (Floyd) for her volunteerism as the grader for this class.  All left the ceremony with a renewed commitment to helping each other and a renewed brightness for the future.
____________________________________________________________________________
The Le Flambeau Foundation is committed to providing opportunities for young people in Haiti to develop their leadership skills and to become agents of change in their communities. The THE SPARK of Le Flambeau program is one of the many ways that the LFF is working to achieve this goal.  To learn more about this class, the topics discussed, and the outcomes click here.
### How to Get Involved
There are a number of ways to get involved with the Le Flambeau Foundation . As a supporter, you can donate to the foundation, volunteer your time, or become a mentor to a young person in Haiti.  Feel free to contact us at info@leflambeau-foundation.org.