Le Flambeau Foundation , Inc., May 25, 2023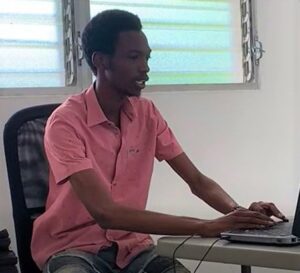 Dervain Valbrune, a student in Haiti, recently graduated from the CodePath Intro to Mobile Product Development Workshop Series. This 12-week course experience, which was held in Haiti this past Spring, was made possible for Valbrune by a scholarship from the Le Flambeau Foundation .  Included at the bottom of this article is a view of a mobile app  project, developed by Valbrune and his class team partner, called LekolLakay (an app concept for homeschooling).
In an interview with Le Flambeau Foundation , Valbrune shared his top learnings from the course, as well as his advice for other students interested in pursuing a career in technology.
Top Three Learnings
Valbrune said that his top three most important learnings from the CodePath course were the application of:
Git (command bash): "Git is a version control system that allows you to track changes to your code over time. It's essential for any developer, and I learned a lot about how to use it in this course."
Android (Intro to mobile app development): "I learned the basics of how to develop Android apps in this course. I now have a good understanding of the Android development process, and I'm excited to continue learning more about it."
Figma (UX/UI Design): "Figma is a design tool that allows you to create wireframes and prototypes for your apps. I learned a lot about how to use Figma in this course, and I'm now able to create high-quality designs for my apps."
 The Importance of English
Valbrune also said that English knowledge is important for anyone interested in pursuing a career in technology. "CodePath courses are all in English," he said. "The videos, the documents, and the coding itself (universally) are all in English, so you have to understand English to understand the courses."
Top Three Preparation Recommendations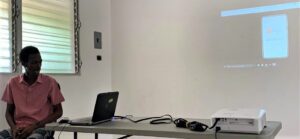 For anyone considering taking the CodePath workshop course, Valbrune offered the following top three preparation recommendations (in addition to knowing basic English), for which courses are offered at the universities:
Learn commands Git
Learn to program with Java
Learn to handle Figma
Next Career Steps
Valbrune said that he is now looking for work in the technology industry. "I'm looking for work in Development (web or mobile) or Project Management," he said. "I took an earlier CodePath course in project management, and I'm confident that I can use my skills in this area to make a positive impact in the tech industry."
Passing the Torch to Other Youth in Haiti
Valbrune said that he is committed to helping other youth in Haiti who are interested in pursuing a career in technology. "I have been telling other youth interested in technology about the opportunities there are in technology and the support resources available to help them," he said. "I noted that Le Flambeau Foundation helped me to participate in the CodePath courses. I am currently a member of a group that helps young people and children in Haiti. Moving forward, I plan to work closely with young people in tech to provide mentorship, to inspire, and to empower a new generation of innovators in Haiti."
Conclusion
Dervain Valbrune is a shining example of the potential that exists in Haiti. He is a talented young man with a bright future ahead of him.  With his background and the help of the Le Flambeau Foundation scholarship for the CodePath workshop course, Valbrune is well on his way to becoming a successful technology professional. He is an inspiration to other young people in Haiti, and he is a reminder that anything is possible if you set your mind to it.
LFF Note:  Dervain Valbrune is an alumnus of THE SPARK of Le Flambeau English language program and is also a user of the Babbel English language app.    We thank our many supporters and extend special recognition to Babbel for their fundraising efforts over the winter which made  this scholarship possible. Continue the Legacy.