Le Flambeau Foundation , Inc., February 1, 2022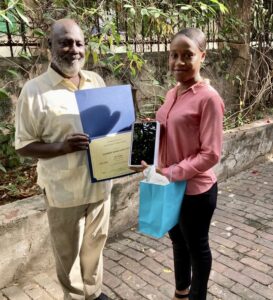 Awards were recently presented in Cap-Haitien to winners of the fall THE SPARK of Le Flambeau English discussion session; an online English learning program focused on extending educational opportunities to bright youth (up to 27 yrs old) in and from Haiti.  This program provides a path for students to engage in and earn their way forward. The program was created via the collaboration of youth in the U.S. and in Haiti.  A number of program alumni members received scholarships and employment opportunities after completing the program due to the elevated engagement, language learning, and exposure.    The awards were presented by Le Flambeau Foundation president Mr. Jean St.Lot-Gervais.
Honorable Mentions Receive Certificates
Guests Joined the Conversation
Changing the Situation.
Learning the English can serve as a tremendous asset and driver for elevation. This semester's class consisted of youth from the North of Haiti, specifically Cap-Haitian.  The winner and the top four honorable mentions all received a certificate and 2-year English learning Babbel app. resulting from the Le Flambeau Foundation /Babbel partnership. The grand winner also received a Samsung tablet.    Le Flambeau Foundation states  "Aprann Anglè. Chanje Sitwasyon."…Learn English. Change the Situation.  This past session was an exciting and rewarding one.  In addition, a member of this class received a scholarship which is soon to be announced.   The future is bright!
To view more details on all the winners from this session click here.
To learn more about THE SPARK of Le Flambeau program and what it means  to youth in Haiti click here.