Le Flambeau Foundation , April 4, 2022
LEARN ENGLISH.  CHANGE THE SITUATOIN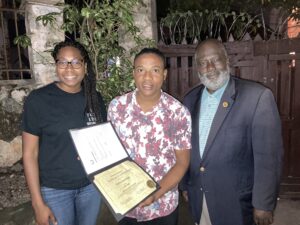 After supporting Le Flambeau Foundation activities in Haiti for the past year+, the second phase of our social impact partnership with English language app leader Babbel, was launched.  The partnership is a vehicle for English learning education and a fundraising source for future youth upskilling scholarships, and more.
(photo: a youth in Haiti earns award certificates)
In Haiti, knowing how to speak English is viewed as the number one vehicle for accessing jobs, scholarships, education, invaluable networks, and ultimately positive change.  Learning English can significantly change one's situation and that of family, friends, and community for the longer term.  The Babbel app can provides that access.
The Le Flambeau Foundation partnership with Babbel is simple. This initiative will make available the world's most successful language learning app at special pricing, providing English learners in Haiti and the region with premium access to economic mobility.  Three packages are offered with the Lifetime being the preferred choice (providing language learning to English and thirteen other languages for a  lifetime.  You can purchase an English learning package for a family member or friend living in the Haiti region, or simply purchase a package code as a donation and have Le Flambeau Foundation provide it to a youth member in Haiti.  To enter the social impact site click here or click the Babbel logo below.  Thank you  for  your  support!