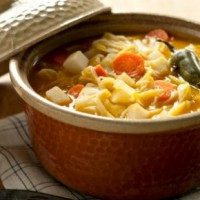 Haitians all over the world make Soup Joumou every New Year's Day (January 1st) to celebrate the independence of Haiti on January 1st, 1804.  Haiti cast off the bonds of slavery and declared its freedom from France in 1804, making history as it set a precedent and became the first post-colonial black-led nation in the world.  Prior to Haiti's independence the slaves were forbidden to eat a certain soup as it was determined to be too fine to be consumed by the slaves.  Enjoying this fine soup now called Soup Joumou was one of the first actions of freedom taken as independence became a reality for Haiti.
Soup Joumou is a celebratory meal consumed together with family and friends in the spirit of overcoming incredible challenges, achieving success, and enjoying the  positive offerings ahead.  A delicious meal for all as you celebrate Independence Day, New Year's Day or both.   Savor the spirit of new accomplishments that will make life-changing differences, and act on your resolutions – they will happen.
Ingredients

1 lb. cubed beef stew meat
1 lb. chicken
1 frozen squash
1 boniata
1 spinach
1 malanga
2 onions-sliced
3 large carrots

6 medium potatoes
¼ lb spaghetti or noodles
3 tbsp seasoned salt
2 limes cut in half
2 tsp. thyme
2 tsp parsley
½ cup scallions
salt, black pepper, and hot pepper to taste

Directions

Clean the meat with hot water and lemon ans set aside in a bowl
Add seasoning salt and set aside for 2 hrs
Boil meat in stockpot with 3 quarts of water until tender (about 1 ½- 2 hrs)
Add more additional water if necessary and remaining ingredients except noodles
Cook for 20 minutes and add noodles
A Le Flambeau Foundation Culture Sharing Vignette – education for the mind and stomach
Le Flambeau Foundation Culture Sharing Vignettes are presented as part of the Foundation's commitment to providing educational opportunities to youth in Haiti.  The support of friends like you make this possible.  Thank you for your on-going donations which permit future programming such as scholarships, THE SPARK of Le Flambeau, and other programming (see website).  Learn more about student sponsorship options, subscribing to youth education for Haiti, or to take action and donate now.  Le Flambeau Foundation is a non-profit 501(c)3 organization in its seventh year.  All donations are tax deductible – ideal for end-of-year or beginning of year resolutions.
Your New Year's Resolution is?…act on it.